Numbing and ignoring pain in your body until you can't later only lands you in a position wherein you'll start facing difficulty with functional mobility on a day to day basis. It is a painful sight to see even some elderly having difficulty with getting in and out of vehicles, getting into and out of a chair, climbing the stairs and even walking from one room to the next one. It is not just the elderly as anyone, whether they are young, infirm or athletically active. To bust the myth about joint pains, it is not just the age factor that governs a person having joint pains. The reasons can be injury, inflammation, certain deposit disease such as gout or maybe an infection as well as sporting activity wherein athletes injure their ligaments or cartilages inside the joint. These could all contribute to swelling and cracking. Here, you have to be on a look out for whether cracking is painful or painless. However, largely, it is governed by the use of joints, giving them the name degenerative pain. It happens over time and gets worse over time and is made worse by activities such as excessive walking, going up and down the stairs or running for an athletic activity.
Knee pain
The term bad knee, as the name indicates, bad knee points to the problem in case there's something wrong with your knee. We often wait for the pains to go away on their own instead of looking after it or treat it. However, when symptoms like pain, swelling, instability and difficulty in mobility arise.
Knee pains can be of two types:
Acute injuries: these occur due to tearing of ligaments or cartilage surrounding the knee. Due to sudden jerks or heavy athletic activity, they can take place. Runner's knee is a classic example of the same wherein there may be painful clicking of bones and soft tissues, triggering excessive pain. 

Arthritic: this is mainly due to wear and tear of the knee due to which the cartilage becomes thinner to the point when there is none left. This starts to erode the bone and that's sort of an indication to proceed for knee surgery. Excessive body weight can accelerate this wear and tear as it adds a strain on your knees.
Elbow pain
Foremost common elbow conditions are 
Tennis elbow: Condition affecting the outside of the elbow. Here, the elbow tendons get inflamed and irritated. It can be caused by playing any racket sport like tennis. However, it is commonly caused by overuse. Treatment options are mostly conservative as it entails use of rest, ice application, exercises and physical therapy

Arthritis: wear and tear of elbow joint where the cartilage starts to wear away, causing bones to rub together. Usually treated with conservative measures like rest, ice application, etc or using ayurvedic ointments containing essential oils derived from most nourishing and healing herbs
Neck pain 
Neck pain literally makes people bend under pressure, making them have slouched backs while working on their desks or a lethargic-y walk. Tech-neck caused due to bending forward while using our mobile phones or laptops. Sometimes, it takes a turn so bad that you'll start feeling nauseated and have terrible headaches. Unless the case later on goes to become as severe as slip disc, it can be cured with conservative treatment options like physical therapy using heating pads and acupuncture equipment, massage therapy using electronic massagers. Losing weight goes a long way to reduce burden on your spine and hence, weight loss aids in curing neck and back pains. Similar to the case for shoulder pains.
Coming from the land of herbs and Ayurveda, we're all aware of the benefits Ayurveda has to offer for joint pains. Some of those herbs offering great relief from Ayurveda are:
Eucalyptus oil: with a soothing effect of the eucalyptus oil aroma, the tannis contained in it aids in treatment of joint pain and swelling triggered by arthritis.

Ginger: It can be found round the gear in almost every Indian refrigerator. Apart from the intoxicating aroma that can be felt with every sip of evening tea, ginger possesses exceptional antiseptic properties. Apart from this, ginger also provides relief from joint pain and swelling as it increases blood circulation upon application to the affected areas that has a lasting healing impact.

Turmeric: We all have fondest childhood memories associated with turmeric, especially with hot milk during flu season. Given the medicinal properties of turmeric, it works great on joint pains as well as inflammation.

Nirgundi: Nirgundi's leaves, stem and seeds are said to have numerous exceptional medicinal properties, ranging from anti-inflammatory to anti-oxidant to anti-convulsing. It can be applied directly to affected areas in the form of essential oils or a paste formed by crushing leaves.
Come explore the product range with Wellness County with a wide variety to choose from!
5. Maharishi Ayurveda Joint Pain Relief Combo Of Pirant Tablets & Pirant Oil Pirant Oil & Tablets is a specially formulated topical oil for relief from stiffness, pain, and inflammation of the joints and muscles. It is a blend of carefully selected essential oils that have specific therapeutic properties resulting in fast and long-lasting relief.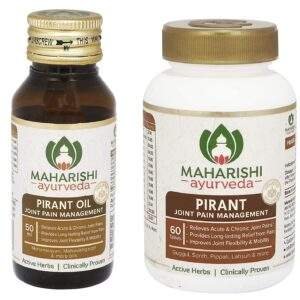 8. Kapiva Ayurveda Artho Sure Juice, 1L | Joint Pain Relief
Kapiva Artho Sure Juice is a great way to relieve pain and protect your muscles. It is safe for everyone and free of any added sugar, colour, flavour, seeds or impurities. Its key ingredients are Rasna, Guduchi, Ashwagandha and Kutki, which are pure Ayurvedic herbs that help to reduce inflammation and ease muscle and joint pain.

11. Essentium Phygen Rhuval Oil 100% Natural Instant Pain Relief Therapeutic Massage Oil for Knee, Joints, Muscles, Back & Arthritis Pain Rhuval Oil is a natural therapy created from herbal extracts and oils well known for their pain relief properties. It has been formulated with scientifically calibrated 'essential oils' to penetrate deeper into 'hypodermis' providing fast relief.